WEET WMH Pure Aluminum Foil Capacitor Cross Reference to Jantzen Audio Alumen Z Cap and home HiEnd Capacitors
WEET WMH MusiCaps are constructed using separate layers of premium foil and polypropylene films, rather than the vapor deposited metallized film used by most other manufacturers. Film-plus-foil construction requires more costly materials and result in MusiCaps being approximately 100% larger than typical metallized-film capacitors, yet the benefits are immediately discernible.
It is with regret that Hovland MusiCap in USA have announced that they are no longer making their Musicap Film and Foil Capacitors as a result of increased production prices and lead times for materials used. WEET WMH Pure Aluminum Foil and Foil Capacitor is the best replacement for it. Please check more information as below:
DATASHEET
www.musicaps.com/Uploads/PDF/WEET-WMH-Pure-Aluminum-Foil-Capacitor-Cross-Reference-to-Jantzen-Audio-Alumen-Z-Cap-and-home-HiEnd-Capacitors.pdf
FEATURES

Top of the range pure aluminum foil capacitor
Very Low Dielectric absorption factor
Very Low Dissipation factor, Very Low ESR, Very Low Inductance
A luxury capacitor designed especially for modern high-end tweeters and mid-range drivers
SPECIFICATIONS
Passive flammability
GB10191-88 IEC384-16
Operating temperature
-55℃~+85℃
Capacitance range
1~10uF
Capacitance tolerance
±3%、±5% 1KHz
Rated voltage
100V、200V.DC
Withstand voltage
1.6VR 5S
Dissipation factor
≤0.0005 1KHz
Insulate the electric resistance
CR≤0.33μF, I.R≥15,000MΩ
CR>0.33μF, I.R≥5,000S
Leads Diameter
0.8 1.0 Tinned Pure Copper Wire
Product Description
It utilizes a much thinner dielectric insulation compared to the market standard. A high voltage rating is not needed for application related to passive loudspeaker crossovers. Ideal for audio aficionados who prefer a slightly less bright system, while also hearing improvements in the overall naturalness/neutrality of the whole system. High quality pure aluminum foil wound with highly specialized machinery and precision winding techniques .

Customer Reviews

The physical size and shape of the WEET WMH is very similar to that of the Jantzen Audio Alumen Z-Cap 100VDC and Cicada Pure Aluminium Foil 100VDC.The WMH has a clear top end, more detailed than that of the Alumen Z-Cap but therefore less smooth. Compared to the Cicada Pure Aluminium Foil, the WMH Aluminum Foil and Metallized Polypropylene is far more open and clear, it just sounds less closed-in. Vocal with the WMH have more richness making the Supreme Classic sound a little forward, a little more in your face. All in all, WMH is reasonably neutral and very usable capacitor.
Winding: Aluminum foil spliced to polypropylene insulation film. (a layer of pure Aluminum foil and a layer of PP film).
Separate layers of polypropylene film & conductive foil deliver superiors clarity of reproduction that metalized capacitors can not.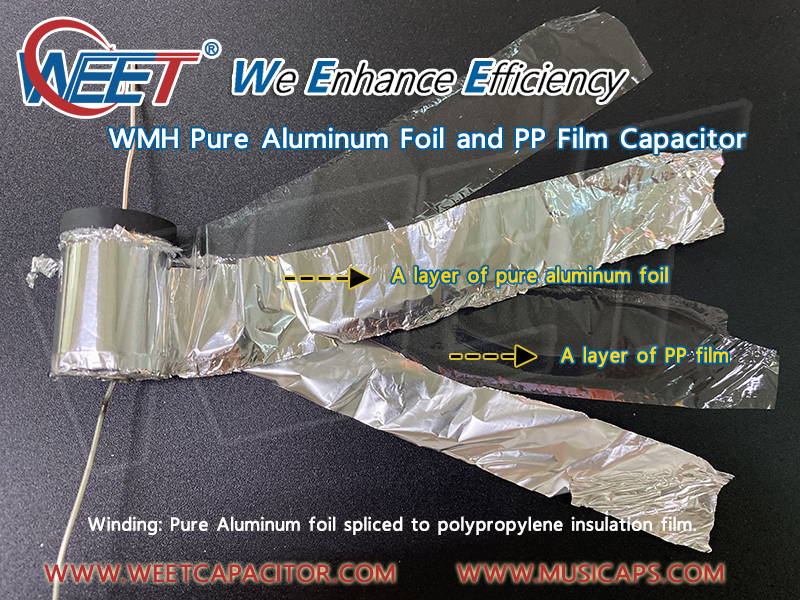 Capacitance, Voltage and DF testing Result
Note: DF value is proportional to the capacitors size and values of capacitance