WEET WME Premium Music Capacitors Crossover HIFI Audio Application Polypropylene Film Capacitor
WEET WME MKP Polypropylene Premium Music Precise Audio Low DF Film Audiophile Capacitor for Crossover and Speaker
KEY WORDS
MKP audio capacitor, Audio Grade Capacitors, Audiophiler MKP, MKP Axial Capacitor 400V , Polypropylene Film, HiFi Audio MKP Capacitor, non-polarized metalized polypropylene crossover capacitors , bi-polar Audio Crossover Capacitor Amplifier Module.

DATASHEET
www.musicaps.com/Uploads/PDF/WEET-WME-Premium-Music-Capacitors-Crossover-HIFI-Audio-Application-Polypropylene-Film-Capacitor.pdf
FEATURES
Quick transient design
High Precise Capacitance ±3%, ±5%
Very Low Dielectric absorption factor
Very Low Dissipation factor, Very Low ESR, Very Low Inductance
Excellent handling of high current audio pulses
Typical applications include General DC Applications, Wave filtering, Bypass, Coupling and decoupling, High end Crossover
SPECIFICATIONS
Passive flammability
GB10191-88 IEC384-16
Operating temperature
-55℃~+85℃
Capacitance range
0.1~100uF
Capacitance tolerance
±3%、±5% 1KHz
Rated voltage
250V、400V、630V.DC
Withstand voltage
1.6VR 5S
Dissipation factor
≤0.0010 1KHz
Insulate the electric resistance
CR≤0.33μF, I.R≥15,000MΩ
CR>0.33μF, I.R≥5,000S
Leads Diameter
0.8、1.0 Tinned Pure Copper Wire
Overview
WEET WME MKP metallized polypropylene capacitors your standard choice for all of your loudspeaker projects! This high quality Premium Audio film capacitor provide perfect sound quality.
Product Description
WEET WME axial metallized polypropylene film capacitor is made of vacuum aluminum plated polypropylene film as the combination of dielectric and electrode. The electrode is led out by tinned copper wire and filled with 94V-0 epoxy resin. Capacitance range from 0.1uF~100uF, rated voltage are 250V、400V、630V.DC.
Customer Reviews
Well, after plenty of burn-in time (that they need to open-up) they deliver a wide and open sound stage. Nice and neutral, WEET WME Premium sounds quite organized when compared with other standard MKP's in this price range. Like all basic MKP's thay can get a bit muddled when complex programme material is fed to them but they do have a certain tidyness to them which makes them go further before that sets in. The WME Premium is reasonably well balanced and neutral and in a positive way nothing sticks out. This works especially well on recordings of jazz-trio's or other small ensembles making it easier to pick out the details. The Clarity Cap SA and ESA will give you more image depth and richer harmonic overtones and the Mundorf EVO Oil will give you sharper leading edges to notes but it must be stated that those capacitors are in a higher price bracket. It is just to give you an idea in what sound quality range we are looking at here.
Capacitance, Voltage and DF testing Result
Note: DF value is proportional to the capacitors size and values of capacitance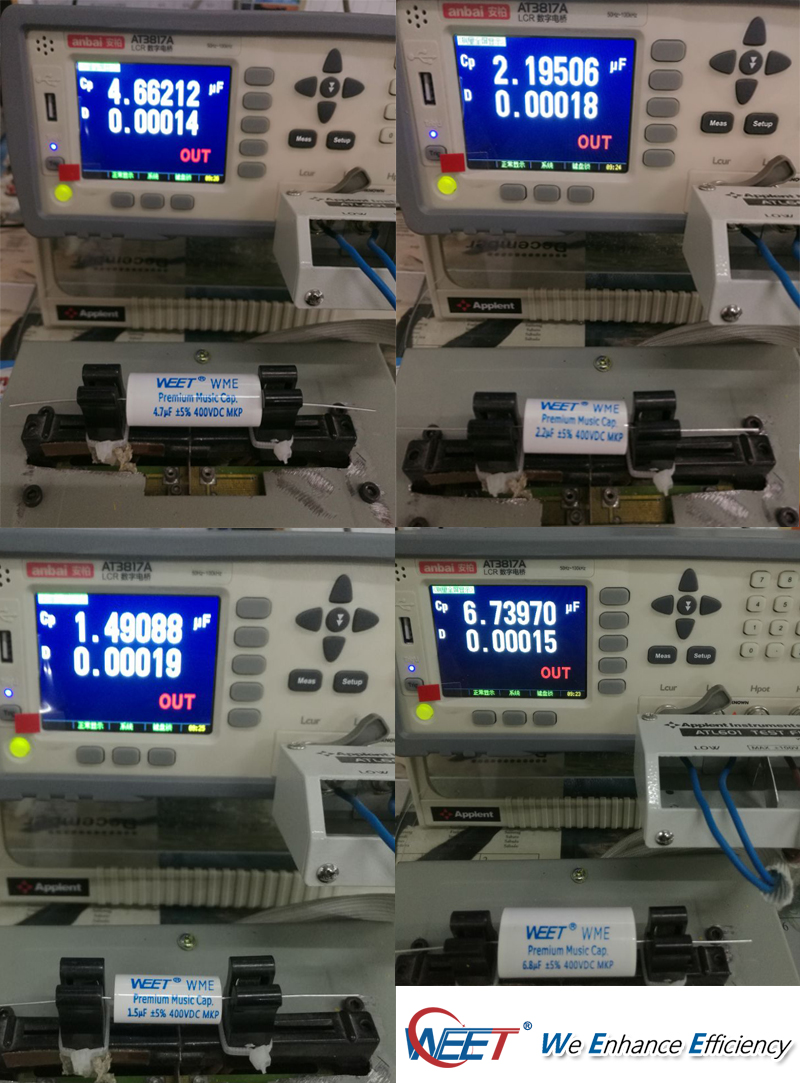 WEET WME Main Production Process